Talisman of Chrysoprase and Copper "RELEASE" Stamped Goddess Tag Necklace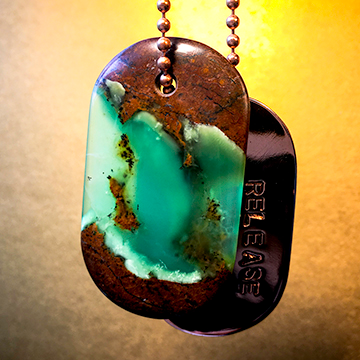 + ONE OF A KIND +
+ HANDCRAFTED BY FRANK & MIRÉ MOLNAR +
Energetic Chrysoprase Goddess Tag pendant with hand-stamped Copper tag pendant on a 27 inch adjustable Copper ball chain necklace with traditional bead chain connector clasps. Tag measures 2 inches long by 1 1/4 inches wide. 
Energetic Qualities of the Stone and Necklace Intention:
+ Intention: RELEASE
+ Chakra: Heart  
An ideal Talisman to wear when feeling anxiety or depression. Wear at the heart and allow the bright green Chrysoprase vibrations to calm your nervous system. The tranquil, clear-water imagery that this gorgeous stone conjures reminds me of the sacred cenotes of Tulum. Be at peace - like floating through a glorious cenote and let the water wash over you releasing the stress, fear and sadness that sometimes fills our head and heart space. Let go of control and grudges. Focus of forgiving and forgetting. Be present to the BIG picture and release the small stuff. Let it all just float away and come back to center. Be in your heart chakra and connect to your divinity. 
**Copper is a grounding metal that is a great energy conductor. Worn with a crystal or stone it will amplify the stone's vibration. Copper is healing and especially balancing to the female reproductive system. Its natural oxidization only adds to its healing vibration. 
For priestesses, Shamans, Wiccans, lightworkers, healers, Creatrixes and Sha Mamas of all varieties!
*** Allow for 1 week to ship for polishing and moon bath ***
Note: Our descriptions of stone uses are not meant to treat any illnesses. Please see a doctor if you have a health issue you are looking to heal.