Talisman in Polka Dot Agate with Chrysoprase and Copper "BALANCE" Stamped Goddess Tag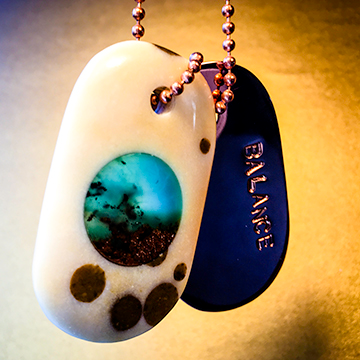 + ONE OF A KIND +
+ HANDCRAFTED BY FRANK & MIRÉ MOLNAR +
Energetic Polka Dot Agate and Chrysoprase Goddess Tag pendant with hand-stamped Copper tag pendant on an adjustable 27 inch copper ball chain necklace with traditional bead chain connector clasps. Tag measures 2 inches long by 1 1/4 inches wide.
Energetic Qualities of the Stone and Talisman Necklace Intention:
+ Intention: BALANCE
+ Chakra: Sacral, Solar Plexus, Heart
The Polka Dot Agate stone is a unique Chalcedony that evokes an energy of childhood with its naturally occurring youthful pattern. Its vibration is calming, bright and pure also like a well loved child. This particular Polka Dot Agate stone is an extraordinary example of the crystal's milk-white background and striking circles in the foreground. The Polka Dot Agate can be a beneficial stone to carry when experiencing overwhelm. It helps with organization but delivers the message with a soft, fun touch (think cleaning up the nursery with Mary Poppins). Placed inside is a circle of Chrysoprase (also a Chalcedony) which views like an underwater window to a tropical cove. The Chrysoprase vibration opens the heart in a profound and healing way. Great for supporting deep personal work, depression and anxiety. Allow its beauty to take you into a vacation vibration where you forget your troubles and stop sweating the small stuff. Together these stones make for an amulet of balance. A perfect talisman to help the wearer stay calm, focused, organized and connected to source in a fun and playful way.
**Copper is a grounding metal that is a great energy conductor. Worn with a crystal or stone it will amplify the stone's vibration. Copper is healing and especially balancing to the female reproductive system. Its natural oxidization only adds to it's healing vibration. 
For priestesses, Shamans, Wiccans, lightworkers, healers, Creatrixes and Sha Mamas of all varieties!
Note: Our descriptions of stone uses are not meant to treat any illnesses. Please see a doctor if you have a health issue you are looking to heal.