Lush Talisman of Power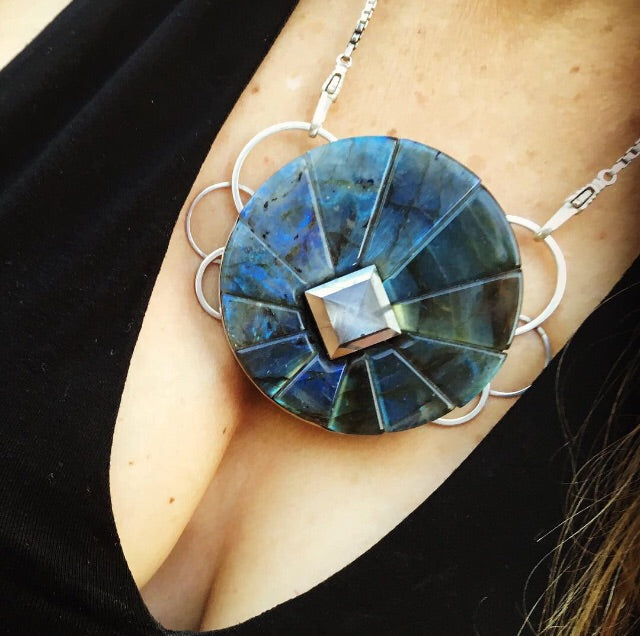 The Lush Talisman of Power is a highly sacred journey through energy, magick, craft and adornment.
The Lush Talisman of Power is:
+One-of-a-Kind+
+Intuitively Designed+
+Bespoke Ritual Jewelry+
Step into Lush Power...
Hand crafted by father/daughter on solar powered homestead in the Orange Hills of Orange, California.
180 minutes of one-on-one deep meditation and spiritual/Intention coaching with Miré Molnar (spiritual educator & Hedgewitch) to deep-dive into an excitement, fear or anxiety around an upcoming initiation, intense transformation or personal ordeal.
The deep meditations (held typically over the phone) are a spiritual journey that uncover the essence of your unique Talisman; what it's made out of, what symbols and magicks must be "baked" into it and how it will serve your specific needs and energies. 
Your guides and higher power lead they way to the design and stone choices and Miré receives them as an instant "download" during the meditation journeys. 
You will share your desires for the piece; size, weight, style, type of jewelry you imagine it being (ring, necklace, tiara etc.). You can request certain stones and metals (Sterling Silver/Copper *for Gold choose Gold option).
DNA keepsakes like human ashes, human Breastmilk or human blood can also be included into your Lush Talisman of Power.
From the insights, discussions and "downloads" of the one-on-one meditations, Miré intuitively designs your Lush Talisman of Power with the guidance and wisdom of master lapidary, metalsmith and craftsman, Frank Molnar (Miré's father). 
Your ONE-OF-A-KIND jewelry then materializes from high-end energy stones and/or crystals, semi-precious gems and Sterling Silver.
The final meditations then work to reinforce the power of the Lush Talisman.
You can wear this highly charged energetic stone and crystal power piece during your initiation or ordeal and reap the benefits of its personalized magick and vibrations.
An extraordinary heirloom to pass down to your children or loved ones. 
The process takes roughly 3-6 months which gives us time to reinforce the power of the talisman in our meditations and take great care in the manufacturing of your bespoke energetic one-of-a-kind Talisman. 
All sales are final. This is not a custom design like in the traditional sense and the final outcome will be a surprise to the purchaser. However, every effort is taken to ensure that the size, weight, style and stones are a good fit for the purchaser.