Talisman of Chinese Writing Stone and Steel "INTUIT" Goddess Tag Necklace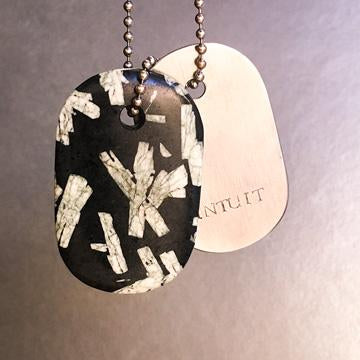 Owned by Christopher Cudé

+ ONE OF A KIND +
+ HANDCRAFTED BY FRANK & MIRÉ MOLNAR +
Energetic Chinese Writing stone Goddess Tag pendant with hand-stamped Steel tag pendant on a 27 inch adjustable steel ball chain necklace with traditional bead chain connector clasps. 
Tag measures 2 inches long by 1 1/4 inches wide.
Energetic Qualities of the Stone and Necklace Intention:
+ Intention/Goddess: INTUIT 

+ Chakra: Root 
Chinese Writing stone brings an energy perfect for accessing the Akashic Records and interpreting their meaning. The limestone matrix with andalusite crystals connects the wearer to their base chakras, grounding them and providing stability. Worn for peaceful dreaming and connecting deep with your intuition. For priestesses, Shamans, Wiccans, lightworkers, healers, Creatrixes and Sha Mamas of all varieties! 
*** Allow for 1 week to ship for polishing and moon bath ***
Note: Our descriptions of stone uses are not meant to treat any illnesses. Please see a doctor if you have a health issue you are looking to heal.