Talisman of Picasso-Marble (Picasso Stone) and Silver "PEACE" Stamped Goddess Tag Necklace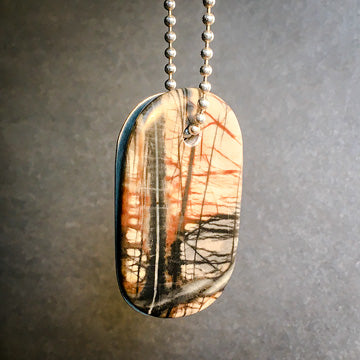 + ONE OF A KIND +
+ HANDCRAFTED BY FRANK & MIRÉ MOLNAR +
Energetic Picasso Stone Goddess Tag pendant with hand-stamped Sterling Silver tag pendant on a 27 inch adjustable Copper ball chain necklace with traditional bead chain connector clasps. Tag measures 2 inches long by 1 1/4 inches wide.
Energetic Qualities of the Stone and Necklace Intention:
+ Intention: PEACE
+ Chakra: Solar Plexus & Crown  
Picasso-Marble is a wide-spectrum supportive stone. Commonly used for good luck, productivity, relaxation and transformation. A perfect stone to go with the intention of PEACE because it helps to calm and balance any discord in your energetic field and will strengthen your relationships, creative endeavors and sense of abundance. It's not a stone to mask any of the underlining issues that are causing you stress, negativity or pain, but rather, it will help you to get present to the root of the problem and will give you the support needed to persevere through the transformation and growth to personally overcome the issue and put it behind you. You must be brave to achieve peace and this stone will support your inner strength to walk "through the fire" it takes to come to a place of true peace. 
For priestesses, Shamans, Wiccans, lightworkers, healers, Creatrixes and Sha Mamas of all varieties!
*** Allow for 1 week to ship for polishing and moon bath ***
Note: Our descriptions of stone uses are not meant to treat any illnesses. Please see a doctor if you have a health issue you are looking to heal.