Talisman of Labradorite and Silver "NAMMU" Stamped Goddess Tag Necklace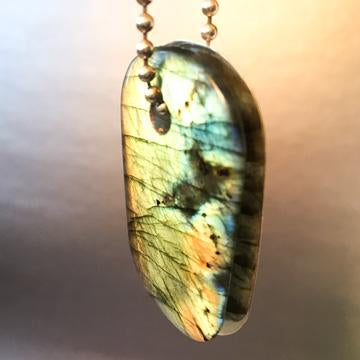 Owner: Rachelle Miles

+ ONE OF A KIND +
+ HANDCRAFTED BY FRANK & MIRÉ MOLNAR +
Fine, handcrafted, energetic Labradorite stone Goddess Tag pendant with hand-stamped Sterling Silver tag pendant on a 27 inch adjustable Sterling Silver ball chain necklace with traditional bead chain connector clasps. 
Tag measures 2 inches long by 1 1/4 inches wide.
Energetic Qualities of the Stone and Necklace Intention:
+ Intention/Goddess: NAMMU
+ Chakra: Third Eye
Nammu is the Goddess of the ocean who birthed the heavens. Combine this Goddess of Goddesses with the transformational energy of the Labradorite, the stone of Magick and you have a powerful amulet. Labradorite helps the wearer connect to the spiritual vibrations while also protecting the wearer from dark thoughts and energies. Nammu creates the gods and mankind and represents water, creation and LIFE.
For priestesses, Shamans, Wiccans, lightworkers, healers, Creatrixes and Sha Mamas of all varieties!
*** Allow for 1 week to ship for polishing and moon bath ***
Note: Our descriptions of stone uses are not meant to treat any illnesses. Please see a doctor if you have a health issue you are looking to heal.