Talisman of Red Jasper and Scratched Steel "LIFE FORCE" Stamped Goddess Tag Necklace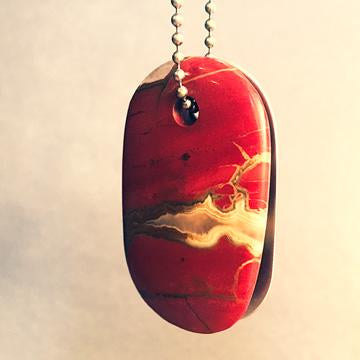 + ONE OF A KIND +
+ HANDCRAFTED BY FRANK & MIRÉ MOLNAR +
Fine, handcrafted, energetic Red Jasper stone Goddess Tag pendant with hand-stamped Steel tag pendant on a 27 inch adjustable Steel ball chain necklace with traditional bead chain connector clasps. Tag measures 2 inches long by 1 1/4 inches wide.

Energetic Qualities of the Stone and Necklace Intention: 
+ Intention/Goddess: LIFE FORCE
+ Chakra: Root
Embody the rich life-giving power of your blood. Women's blood is sacred; created the first human distinction between light and dark and thus caused human consciousness (or the fall from Eden as some might say). The courageousness of being a woman - gatekeepers at the boundary between the two worlds.  Red Jasper vibrates with endurance, strength, fertility and the courage. A talisman of eco warriors of the Divine Feminine who promote justice, protection, and life.  For priestesses, Wiccans, healers, shamans, lightworkers and Sha Mamas of all varieties! 
*** Allow for 1 week to ship for polishing and moon bath ***
Note: Our descriptions of stone uses are not meant to treat any illnesses. Please see a doctor if you have a health issue you are looking to heal.