Talisman of Azurite and Malachite in Matrix with "TRUST" Stamped in Scratched Steel Goddess Tag Necklace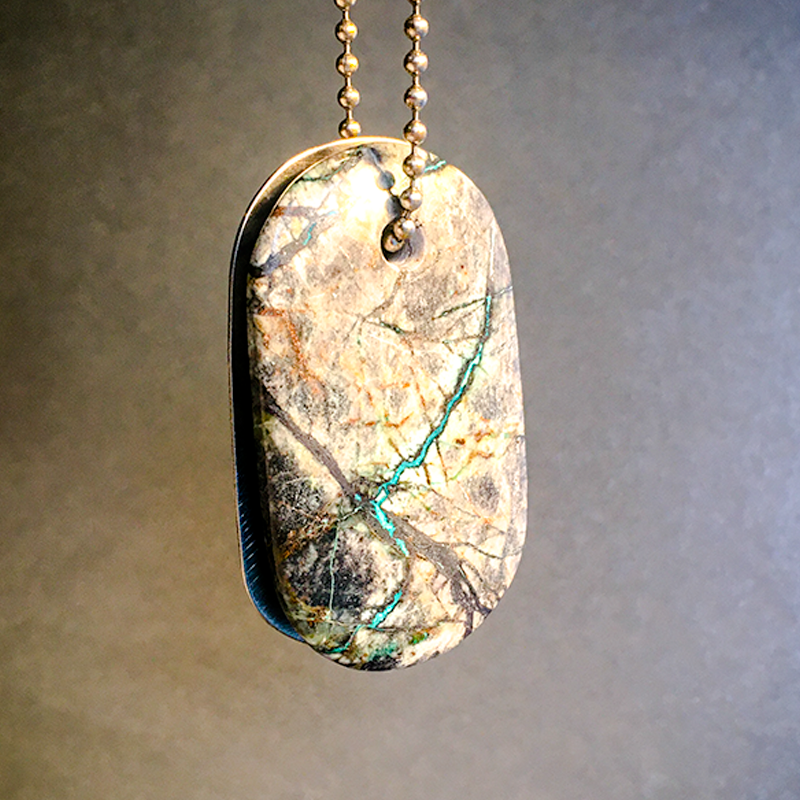 + ONE OF A KIND +
+ HANDCRAFTED BY FRANK & MIRÉ MOLNAR +
Energetic Azurite Malachite stone Goddess Tag pendant with hand-stamped Scratched Steel tag pendant on a 27 inch adjustable Steal ball chain necklace with traditional bead chain connector clasps. Tag measures 2 inches long by 1 1/4 inches wide.
Energetic Qualities of the Stone and Necklace Intention:
+ Intention/Goddess: TRUST
+ Chakra: Third Eye
Two stones in matrix that together will develop your intuition while encouraging you to take action. This overall wellness Talisman is a perfect stone to work with if you are stepping into your path and need a bit of support to go through the shifts, changes and growing pains. It can help guide you and give you a sense of security that will aid you to move into your unique power and show up in this world as you were born to be. Clear out confusion, connect to your Third Eye, be well and balanced and make your power moves! You can TRUST that the Universe will hold you. Now is the time and it is YOUR moment.
For Priestesses, Shamans, Wiccans, lightworkers, healers, Creatrixes and Sha Mamas of all varieties!
*** Allow for 1 week to ship for polishing and moon bath ***
Note: Our descriptions of stone uses are not meant to treat any illnesses. Please see a doctor if you have a health issue you are looking to heal.