Talisman of Agate with Quartz Crystal and Silver "COSMIC" Stamped Goddess Tag Necklace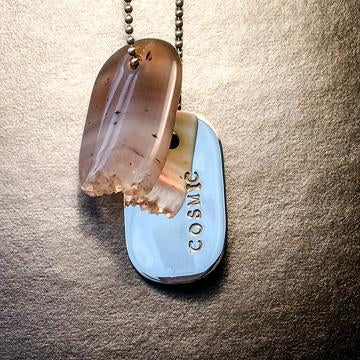 + ONE OF A KIND +
+ HANDCRAFTED BY FRANK & MIRÉ MOLNAR +
Energetic Agate with Quartz Crystal Goddess Tag pendant with hand-stamped Sterling Silver tag pendant on a 27 inch adjustable Sterling Silver ball chain necklace with traditional bead chain connector clasps. Tag measures 2 inches long by 1 1/4 inches wide.
Energetic Qualities of the Stone and Necklace Intention:
+ Intention: COSMIC
+ Chakra: Balances all Chakras 
Agate (or banded Chalcedony) is a mineral of the Quartz family and has a long, rich history of being used for it's healing properties. Used for balancing the Yin and Yang energies of the Universe within you. Helpful because C O S M I C is exactly what YOU are! Wearing this stone will stabilize you back to your truth of divinity. Agate is a great stone for new mothers as it tends to the hormonal rockiness of postpartum - evening out your energy and staving off the "baby blues." Wear between the breasts also to support your sacred milk during lactation. 
For priestesses, Shamans, Wiccans, lightworkers, healers, Creatrixes and Sha Mamas of all varieties!
*** Allow for 1 week to ship for polishing and moon bath ***
Note: Our descriptions of stone uses are not meant to treat any illnesses. Please see a doctor if you have a health issue you are looking to heal.