Talisman of Sandstone and Silver "ORIGIN" Stamped Goddess Tag Necklace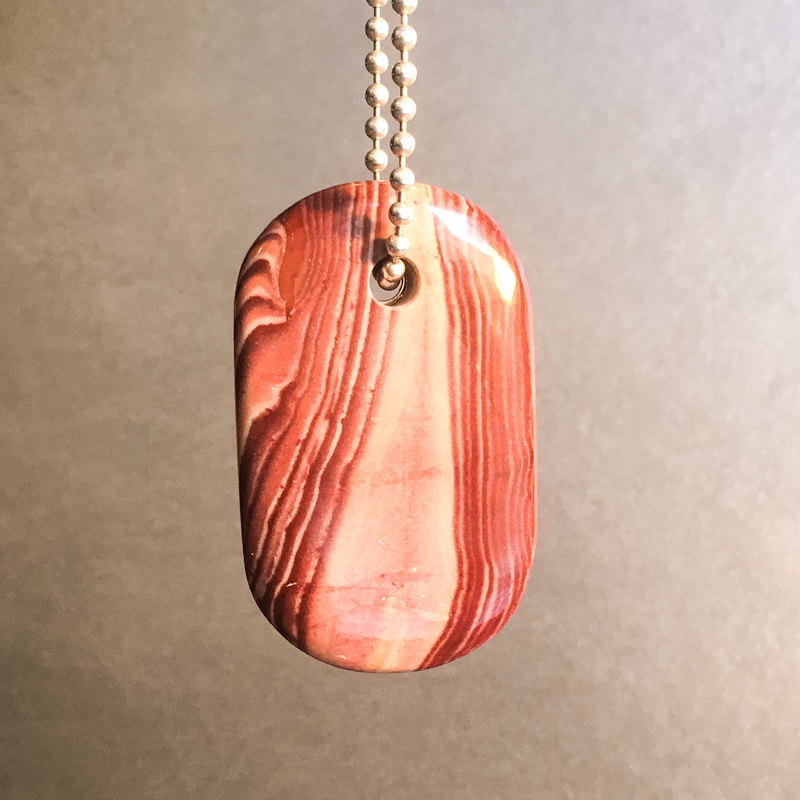 + ONE OF A KIND +
+ HANDCRAFTED BY FRANK & MIRÉ MOLNAR +
Fine, handcrafted, energetic Sandstone Goddess Tag pendant with hand-stamped Silver tag pendant on a 27inch adjustable Sterling Silver ball chain necklace with traditional bead chain connector clasps. Tag measures 2 inches long by 1 1/4 inches wide.
Energetic Qualities of the Stone and Necklace Intention:
+ Intention: ORIGIN
+ Chakra: Sacral
Sandstone is made from sedimentary rock and grains of sand that are bonded together through time with quartz, calcite, feldspar or clay. Iron or manganese oxides create bright warm colored tones. Wind and/or water design these beautiful creations and therefore they are often considered a very creative stone. They are of earth and therefore very grounding, helping the wearer keep focus and stay attuned to the world around them as well as their own deeper needs. Origin is the place where we all come from and the earthen design in this Goddess Tag reminds us of the sacred Yoni - our own Origin. From our Mothers and from the Earth - this is where we are oriented. 
For priestesses, Shamans, Wiccans, lightworkers, healers, Creatrixes and Sha Mamas of all varieties!
*** Allow for 1 week to ship for polishing and moon bath ***
Note: Our descriptions of stone uses are not meant to treat any illnesses. Please see a doctor if you have a health issue you are looking to heal.