Talisman of Purple Jasper and Silver "MAGICK" Stamped Goddess Tag Necklace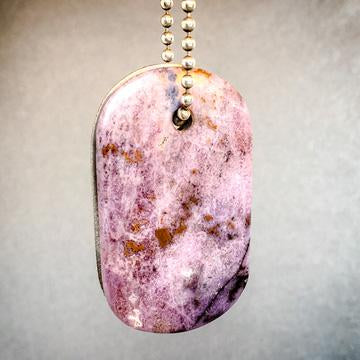 Owner: Rachelle Miles

+ ONE OF A KIND +
+ HANDCRAFTED BY FRANK & MIRÉ MOLNAR +
Fine, handcrafted, energetic Purple Jasper stone Goddess Tag pendant with hand-stamped Sterling Silver tag pendant on a 27 inch adjustable Sterling Silver ball chain necklace with traditional bead chain connector clasps. 
Tag measures 2 inches long by 1 1/4 inches wide.
Energetic Qualities of the Stone and Necklace Intention:
+ Intention/Goddess: MAGICK
+ Chakra: Crown
Jasper colors range across the rainbow spectrum due to the different ratios of mineral and crystal that it can be made with. It similarly has a broad-spectrum of healing attributes. This beautiful purple Jasper is a particularly helpful protection talisman and will help you shed your fears by calming your emotional body and supporting your inner dignity. Wear this stone when working from your Crown Chakra and watch yourself focus multiple energies together into a single purpose. With this spiritual focus in a circle of protection make your Magick!
For priestesses, Wiccans, lightworkers, healers, shamans and Sha Mamas of all varieties!
*** Allow for 1 week to ship for polishing and moon bath ***
Note: Our descriptions of stone uses are not meant to treat any illnesses. Please see a doctor if you have a health issue you are looking to heal.