Talisman of Poppy Jasper and Steel "DISCOVER" Goddess Tag Necklace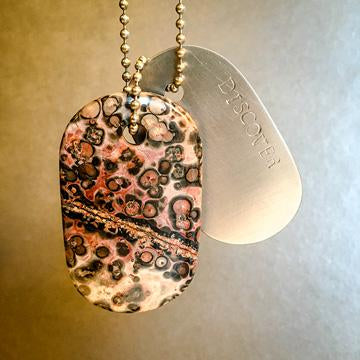 + ONE OF A KIND +
+ HANDCRAFTED BY FRANK & MIRÉ MOLNAR +
Energetic Poppy Jasper stone Goddess Tag pendant with hand-stamped Steel tag pendant on a 27 inch adjustable Steel ball chain necklace with traditional bead chain connector clasps. Tag measures 2 inches long by 1 1/4 inches wide.
Energetic Qualities of the Stone and Necklace Intention:
+ Intention/Goddess: DISCOVER
+ Chakra: Crown
This boisterous variation of Brecciated Jasper is known for its circular patterns of bright red "poppy" like shapes over a molten ooze backdrop of greys, browns and yellow. This Crown Chakra stimulating stone inspires vitality and passion. It is a perfect stone to support adventure, new experiences and innovation. 
For Priestesses, Shamans, Wiccans, lightworkers, healers, Creatrixes and Sha Mamas of all varieties!
*** Allow for 1 week to ship for polishing and moon bath ***
Note: Our descriptions of stone uses are not meant to treat any illnesses. Please see a doctor if you have a health issue you are looking to heal.