Plasma Agate Talisman Ring size 8.5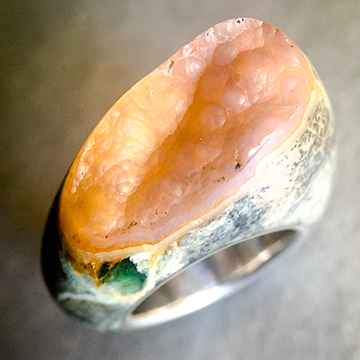 + ONE OF A KIND +
+ HANDCRAFTED BY FRANK MOLNAR +
This Plasma Agate ring is fantasy inspiring with it's unique crystal top that looks like plasma. This one-of-a-kind mineral couture ring (or finger wand) protects both energetically and physically. Vibrate with crystal strength and security wearing a formidable masterpiece of nature and design. 
Sterling Silver band inside.
Size 8.5
Original design by, and handmade by artist and master craftsman Frank Molnar.
*** Allow for 1 week to ship for polishing and moon bath ***
Note: Our descriptions of stone uses are not meant to treat any illnesses. Please see a doctor if you have an issue you are looking to heal.