Garnet Crystal Point - Power & Protection Ring Size 6.5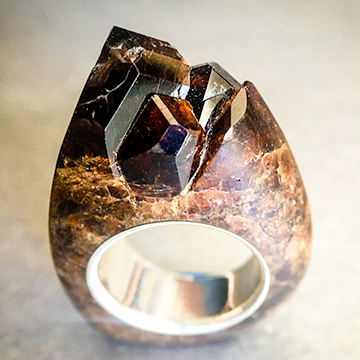 + ONE OF A KIND +
+ HANDCRAFTED BY FRANK MOLNAR +
Pure sensuality and primordial power comes off of this deep-red crystal growing out of its mother stone. Polished to the smoothest touch on the sides and naturally pointed at the top where garnet shoots out with its sacred beauty. This one-of-a-kind Garnet couture ring (or finger wand) protects both energetically and physically. Vibrate with crystal strength and security wearing a formidable masterpiece of nature and design. I don't want to sell this as it is a perfect specimen of Frank Molnar's classic crystal pointed ring. Therefor the price is high. Please reach out if you want something similar: talismamajewelry@gmail.com
For priestesses, Goddesses, Wiccans, lightworkers and Sha Mamas of all varieties!
Sterling Silver band inside. 
Size 6.5
Original design by, and handmade by artist and master craftsman Frank Molnar. 
*** Allow for 1 week to ship for polishing and moon bath ***
Note: Our descriptions of stone uses are not meant to treat any illnesses. Please see a doctor if you have an issue you are looking to heal.