Custom Keepsake Goddess Tag with DNA or Spell "Window"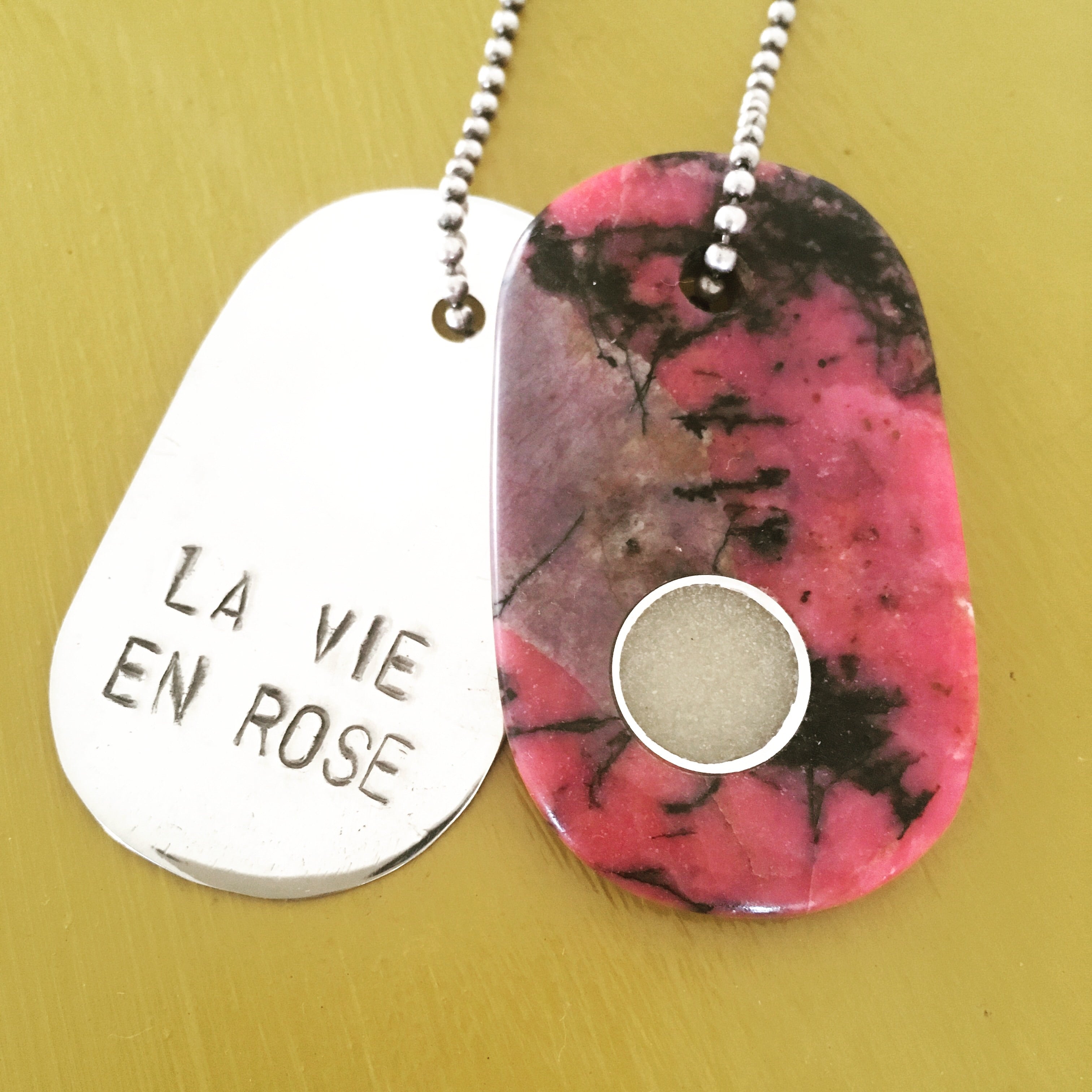 + ONE OF A KIND +
+ HANDCRAFTED BY FRANK & MIRÉ MOLNAR +
Stone Talisman Necklace with a "DNA Keepsakes" window that can be filled with Breastmilk, Ashes, strands of hair, dried placenta, menstrual blood or dried flowers. 
Choose one of 5 stones below (or email us about a custom stone choice) 
Rhodonite (First-Aid stone, Balancing)
Jade (Healing, Manifesting, Abundance)
Red Jasper (Endurance, Strength, Fertility)
Labradorite (Spirituality, Cosmos, Magick)
Tiger's Eye (Integrity, Truth, Energy)
Accompanied by a hand-stamped Sterling Silver tag pendant on a 27inch adjustable Sterling Silver ball chain necklace with traditional bead chain connector clasps. Tag measures 2 inches long by 1 1/4 inches wide.
Email the intention word that you'd like stamped on the silver Tag (*10 letter MAX) to talismama@shamamarising.com.
**If you have a stone in mind that is not listed please reach out to see if it's something we have access to and/or in stock. 
++++++++++++++++++++++++++++++++++++++++++++++++++++++++++++
Once purchased we will send you a prepaid shipping package with all instructions to send your breastmilk, placenta or ashes etc. and your unique intention to be stamped on Sterling Silver. Making the operation as easy and streamlined as possible for busy Sha Mamas. Please be sure to include your correct shipping address at point of payment. Your unique keepsake DNA will be separated from others' and labeled throughout the entire process of making your keepsake gemstone. 
*For the best luck in capturing your moon blood - please purchase a Diva Cup through our shop: https://talismama.life/products/diva-cup
Note: Because your breast milk is unique to you, your jewelry's "gem" color may vary from the picture shown. Your breastmilk jewelry will be the color of YOUR unique breast milk. 
This item is made to order and one-of-a-kind. Please allow 6-8 weeks (after DNA keepsake has been sent) to receive your very special hand-made keepsake Goddess Tag.
Our descriptions of stone uses are not meant to treat any illnesses. Please see a doctor if you have a health issue you are looking to heal.